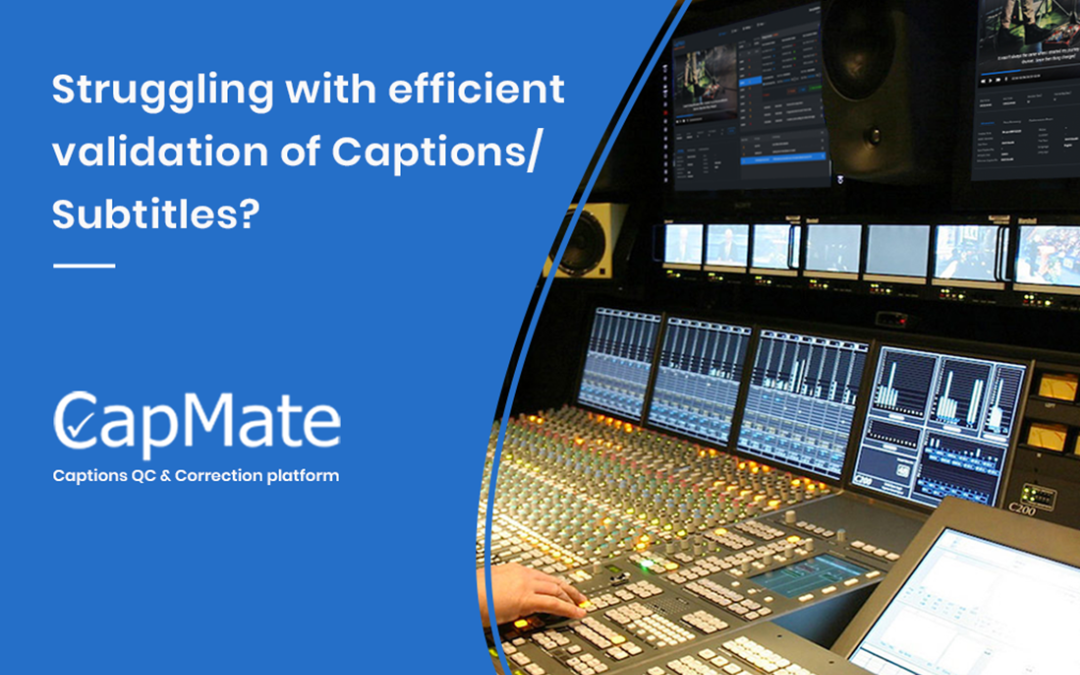 04 Aug

CapMate 101 – Caption/Subtitle Files Verification and Correction Solution

Many of our customers had been telling us that the process of validating and correcting closed caption files is tedious, time consuming and costly! And that they needed an innovative QC solution for caption and subtitle files, similar to what we have done for Audio/Video QC. We took that request to heart and have introduced CapMate, the first comprehensive cloud native caption QC software that provides verification and correction of captions and subtitle files.

In fact, CapMate is so innovative and bleeding edge that many are not even aware of such a solution category! Of course, there are a large selection of capable programs in the 'captioning' category that allow for creation of caption and subtitle files. However, until CapMate came around, there was NO solution to address the dire need for an innovative automated software for caption QC that could find caption related issues, much less fix them! Before CapMate, caption verification and correction was a painfully slow, manual, and error prone process.

And so starting with this blog post and following up with a series of short blogs, I would like to introduce you to this new category of software and tell you more about CapMate!

Let me start by giving you the highlights! CapMate:
Is a cloud-native solution that can work with your local content or those in the AWS cloud
Has been in heavy production use for over a year and so it already is a robust and proven solution
Helps drastically reduce the amount of time needed to verify and fix caption files, improving operational efficiency
Supports all the major caption formats such as SCC, SRT, IMSC, EBU-STL, and many more
Has usage-based pricing (monthly/annual/ad-hoc) so you only pay for what you use
Can detect the most common and difficult caption issues, like Sync, Text Overlap, missing caption, and many more
Can also correct these issues, in most cases automatically, and allow you to generate a new clean caption file
And so much more….
You can see a short 1-min clip highlighting CapMate's features here.
Be on a look out for CapMate 102, the next blog in this series where I will write about one of the key features of CapMate, its ability to accurately detect and correct caption sync issues! At any time that you think CapMate may be the subtitle QC software solution you have been looking for, contact us (sales@veneratech.com), and we are happy to give you a live demo of CapMate and set you up with a FREE trial account!