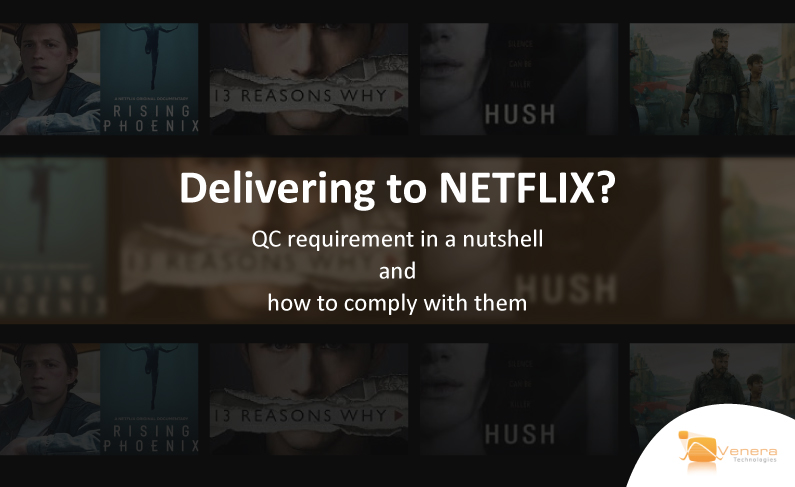 31 Jan

Delivering to NETFLIX? QC Requirements in A Nutshell and How to Comply with Them

It is a well-known fact that Netflix is very conscious of the quality of content that is delivered via their service. Whether it is the overall Audio/Video quality or the structural compliance of the content delivery packages, all of it needs to be in compliance with their technical specifications before it can be accepted by Netflix.

Becoming a Netflix Preferred Fulfillment Partner – NPFP, or being part of the Netflix Post Partner Program – NP3 is a tough task and continuing to remain a partner is also not easy, requiring consistent attention to quality. Netflix maintains the track record of the partners and the failure rates are published on its website from time to time.

It is therefore pertinent for the Netflix partners to ensure the compliance of their content before delivering. Here is a list of some of the common areas of QC that suppliers need to pay attention to before delivering their content.
IMF Analysis: Netflix requires most of its content to be delivered in IMF packages. That means you need to verify the accuracy of your IMF packages before delivery. This includes the basic compliance with IMF Application 2E SMPTE standards and specific validations on asset maps, packing list and other package elements.
Dolby Vision: Increasingly more content is now being delivered in HDR and Netflix has selected Dolby Vision as its HDR format of choice. This requires you to ensure the basic Dolby Vision compliance along with specific structure recommendations outlined in the Netflix specifications.
Photon: Netflix also requires for your IMF packages to pass their own 'Photon' IMF tool before delivery. These checks are performed while uploading the package to Netflix. If Photon fails the asset then the content will not be sent to Netflix.
Harding PSE: Detecting video segments that may cause Photo Sensitive Epilepsy (PSE), particularly for content that is being delivered to the UK and Japan, is becoming very important. Netflix may require PSE validation for certain category of content.
Audio/Video baseband quality: The content must be thoroughly checked for a wide range of artifacts in the audio/video essence before delivery.
Many of the above items are difficult and/or time-consuming to perform with manual QC and therefore warrant the use of a QC tool. Venera's QC products (Pulsar – for on-premise & Quasar – for cloud) can help in identifying these issues in an automated manner. We have worked extensively with the IMF User Group, and Dolby and Netflix teams to create the features that do what user needs, and have done so without introducing a lot of complexity for the users.
We have also integrated the industry-standard Harding PSE engine and can generate a Harding certificate for every file processed through our Pulsar & Quasar file QC tools. And the Netflix Photon tool has also been integrated so that you can receive ONE QC report including the Photon messages as well.
The results are provided in the form of XML/PDF reports for easy assessment. If desired, the Harding certificate and the QC reports (which will include the Photon results) can even be shared with Netflix along with the delivered content.
Pulsar – on premise File-based Automated QC
Depending on the volume of your content, you could consider one of our Perpetual license editions (Pulsar Professional, or Pulsar Standard), or for low volume customers, we also have a very unique option called Pulsar Pay-Per-Use (Pulsar PPU) as an on-premise usage-based QC software where you pay only $15/hr for content that is analyzed. And we, of course, offer a free trial so you can test our software at no cost to you. You can also download a copy of the Pulsar brochure here.
Quasar – Native Cloud File QC Service

If your content workflow is in the cloud then you can use our Quasar QC service, which is the only Native Cloud QC service in the market. With advanced features like usage-based pricing, Dynamic scaling, Regional resourcing, content security framework and REST API, the platform is a good fit for content workflows requiring quality assurance. Quasar is currently support for AWS, Azure and Google. Read more about Quasar here.
Both Pulsar & Quasar come with a long list of 'ready to use' QC templates for Netflix, based on their latest published specifications (as well as some of the other popular platforms, like iTunes, CableLabs, and DPP) which can help you run QC jobs right out of the box. You can also enhance and modify any of them or build new ones! And we are happy to build new QC templates for your specific needs.