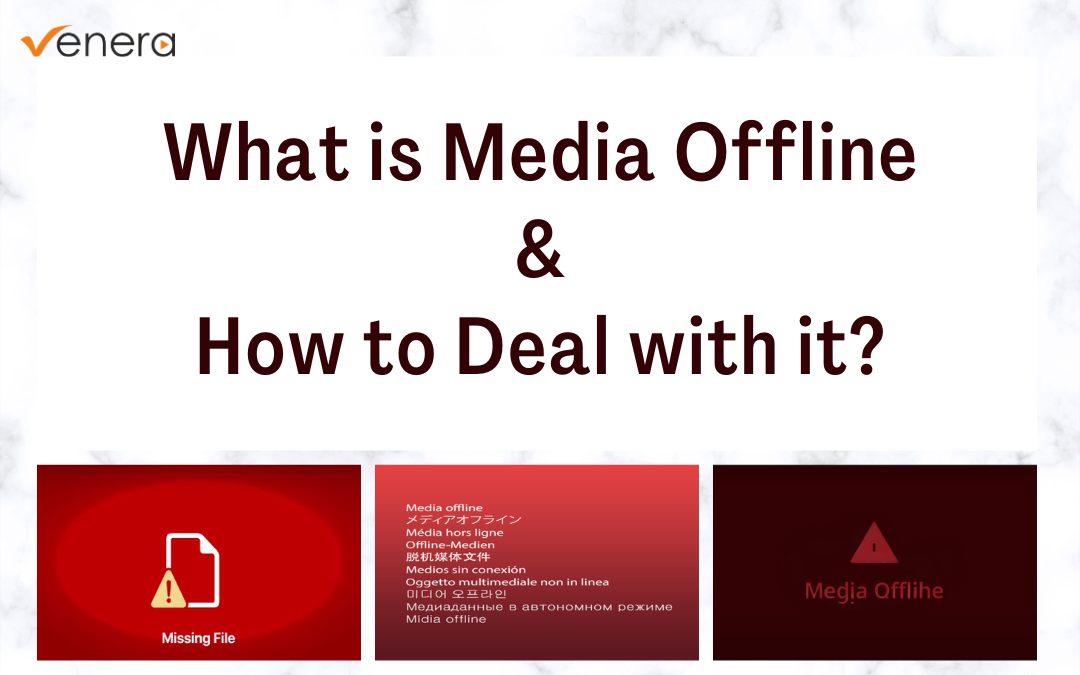 24 Apr

Media Offline: What is it and how to deal with it?
How does this happen?
One of the most important steps during the post-production process for a content is 'Editing'. A typical editing project comprises many media clips and segments that are stitched together in the timeline, in order to create the complete content. A professional editing solution keeps references to all these segments and allows publishing of the final render once the editing process is completed. These media segments can reside in various storage such as SD-Card, SAN, NAS, USB, HDD, etc.
Imagine a scenario where a fresh piece of content is received on an SD card. The editor inserts this SD card into the Editing software and adds the media files on the SD card on to the editing timeline. It looks all good at preview and the editor saves the project. The editor comes the next day, removes the SD card while continuing to work on the editing project. On previewing the file, the editor suddenly sees "Media Offline" image in the video. This "Media offline" image is inserted by the Editing solution when the referenced media is not accessible due to the removal of the SD card. This can also happen if a media file is deleted, moved, renamed or simply becomes inaccessible in a network storage. It can also happen due to slow access to the storage. The actual "Media Offline" image also varies across different editing solutions.
Here are some examples: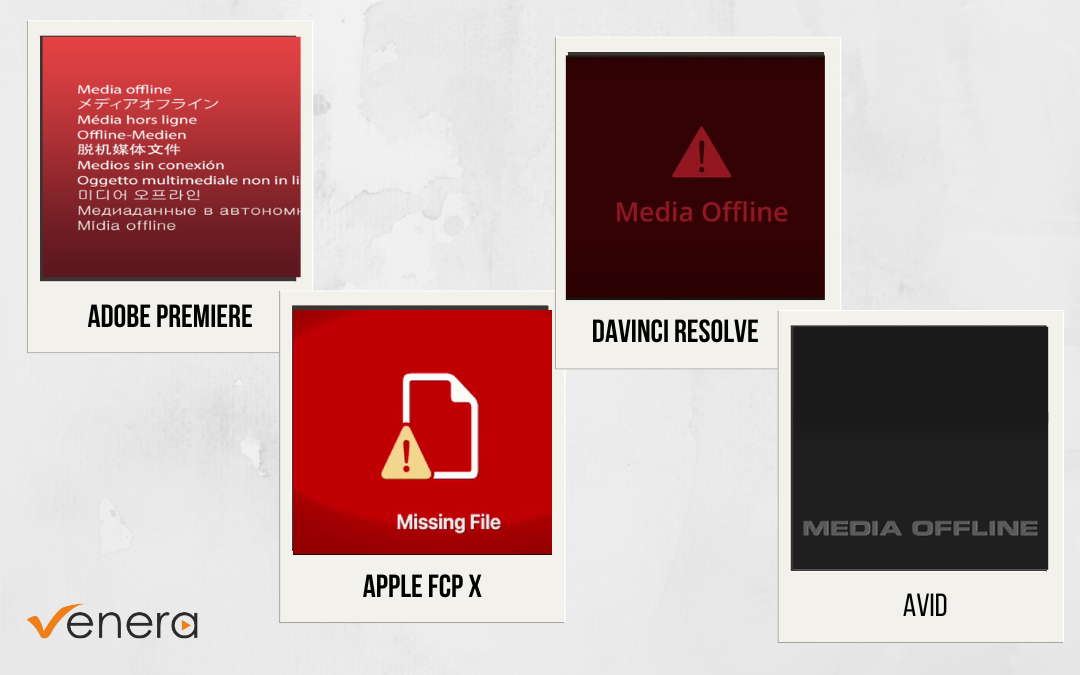 Unfortunately, human mistakes & network issues continue to happen in the editing environment and therefore, such a scenario is common. However, the presence of "Media Offline" segments in the final content delivered out of the post-production process is completely unacceptable. Its presence will lead to content rejection, thereby damaging the reputation of the post-production house. If the issue is detected in time before delivery, rectification is fairly easy as it is only a matter of providing correct reference to the missing media file inside the editing solution.
How to rectify "Media Offline"?
Comprehensive rectification requires timely & accurate detection of "Media offline" issues in the content. There are two ways of detecting media offline: manual and automated.
Manual Method to Detect Media Offline
The manual method involves an operator manually checking the content to determine if the "Media Offline" image is present in the content. The image can be present for a few frames or for a longer duration, depending on the length of missing content. This will require an operator to watch through the entire content, which can be a time-consuming process and is prone to human errors.
Automated Method to Detect Media Offline
An Automated QC solution can detect "Media offline" in the content without any manual intervention. An operator just needs to configure the template in the video QC software and the rest is done automatically. This test by the video quality checker software is also accurate and therefore, can be relied upon without a need for a manual scan. Using an Automated File QC solution for this detection is faster and more efficient than manual methods, thereby helping optimize the content workflows.
Pros and Cons of Manual and Automatic Methods
There are hardly any cons of using Automated methods, as the investment in QC software is easily offset by the cost savings by eliminating manual intervention.
Venera offers a wide range of Automated QC solutions – both for on-premise (Pulsar) and Cloud deployment (Quasar).
Quasar & Pulsar are perfect solutions for automated media offline detection, allowing you to detect and fix media offline issues quickly and efficiently. This helps minimize the impact of such QC issues on production timelines and budgets while retaining the reputation of the post-production company.
By relying on Quasar & Pulsar, post-production houses can be certain that content delivered by them to their customers is free of "Media Offline" issues.
Venera's QC solutions are also highly customizable, allowing users to configure them to their specific needs and requirements. Users can choose to invest upfront in a QC software license or can pay on a usage basis. With these options available, using a QC solution to detect and eliminate Media Offline issues efficiently is easy & feasible for everyone.
We hope this article has been informative and helpful in understanding media offline and its implications on media production. We would love to hear about your experiences and tips for dealing with media offline. Please share your thoughts and recommendations in the comments section below.